September 26, 2017
Two Down, One to Go for Verizon
On September 8, Verizon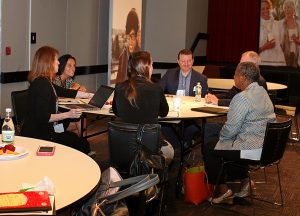 Communications Inc.** co-hosted the second of three clinics scheduled for 2017 with DLA Piper*† and CPBO at its offices in Basking Ridge, New Jersey. The clinic utilized CPBO's Clinic in a Box® Program – Select Topic and offered volunteers and nonprofits a deep dive on performance improvement plans and separation agreements.
Volunteer attorneys from Verizon were joined by colleagues from other legal departments, including ADP, LLC, Berkeley College, Datapipe Managed IT Services, and Sanofi US Services Inc.**. The volunteers arrived bright and early for a training on performance improvement plans and separation agreements led by an attorney from DLA Piper. Following the training, volunteers split into teams and met with representatives from ten nonprofit organizations to draft or revise the organization's performance improvement plans and a form separation agreement. The nonprofit organizations attending the clinic offer a wide range of services, including creating employment opportunities for veterans, empowering young people to strengthen their social-emotional skills, and ending domestic and sexual violence.
Clients and volunteers alike found the clinic to be a "very rewarding" experience. One client shared that the clinic provided "a good plan for moving forward". Both the clients and volunteers expressed excitement about the subject of the clinic, with one volunteer stating, "I liked the limited focus and targeted materials."
The PBEye thanks all of the co-hosts and volunteers for making this clinic a great success, and the nonprofits for the essential work they do to serve their communities. ACC chapters and legal departments interested in hosting a similar clinic can learn more at Clinic in a Box® program and read about previous clinics here. To discuss in-house pro bono, please contact CPBO.
**denotes a Corporate Pro Bono Challenge® signatory
* denotes a Law Firm Pro Bono Challenge® signatory
† denotes a Member of the Law Firm Pro Bono Project