April 25, 2017
CPBO is excited to announce the CPBO

Chapter Challenge for 2017!  CPBO invites ACC chapters to encourage their members to demonstrate their commitment to pro bono legal services by signing or encouraging their CLOs to sign the CPBO Challenge® statement. The ACC chapter with the most new signatories to the Corporate Pro Bono Challenge® initiative on September 30 will be recognized at the 2017 ACC Annual Meeting in Washington DC.
It's only been a month, and already two front runners have emerged! Currently, the Arizona and National Capital Region ACC Chapters are in the lead, both bringing new signatories to the CPBO Challenge® initiative.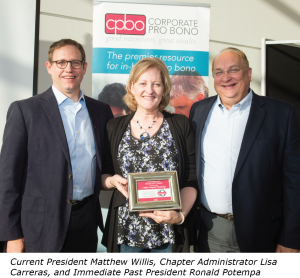 In 2016, the inaugural year of the CPBO Chapter Challenge, competing chapters collectively encouraged 10 legal departments to declare their commitment to pro bono and sign the CPBO Challenge® statement. CPBO honored ACC Chicago for encouraging the most CLOs to join the challenge.  For more information, please contact CPBO at cpbo@probonoinst.org.