November 19, 2019
Bringing Efficiency to Pro Bono
Law firms are widely prioritizing efficiency as a means to increase profit. Altman Weil's "2018 Law Firms in Transition" survey found that more than 85 percent of responding firms were implementing at least one strategy to increase the efficiency of their delivery of legal services. Are your pro bono programs keeping up, adhering to the same standards, and becoming more efficient as well?
Efficiency within an organization is all about finding a way to reach your organization's desired goals using the least amount of time and money. For a law firm's pro bono practice, the goal is to find a way to serve the maximum number of pro bono clients. In order to increase the efficiency of your pro bono practice, your firm must serve your pro bono clients in an intentional and purposeful way that decreases waste, maximizes your attorneys' time, and remains within the firm's budget. There are a variety of strategies and techniques that law firms can adopt to make their pro bono programs more efficient and effective, while continuing to be meaningful. Below are a few examples: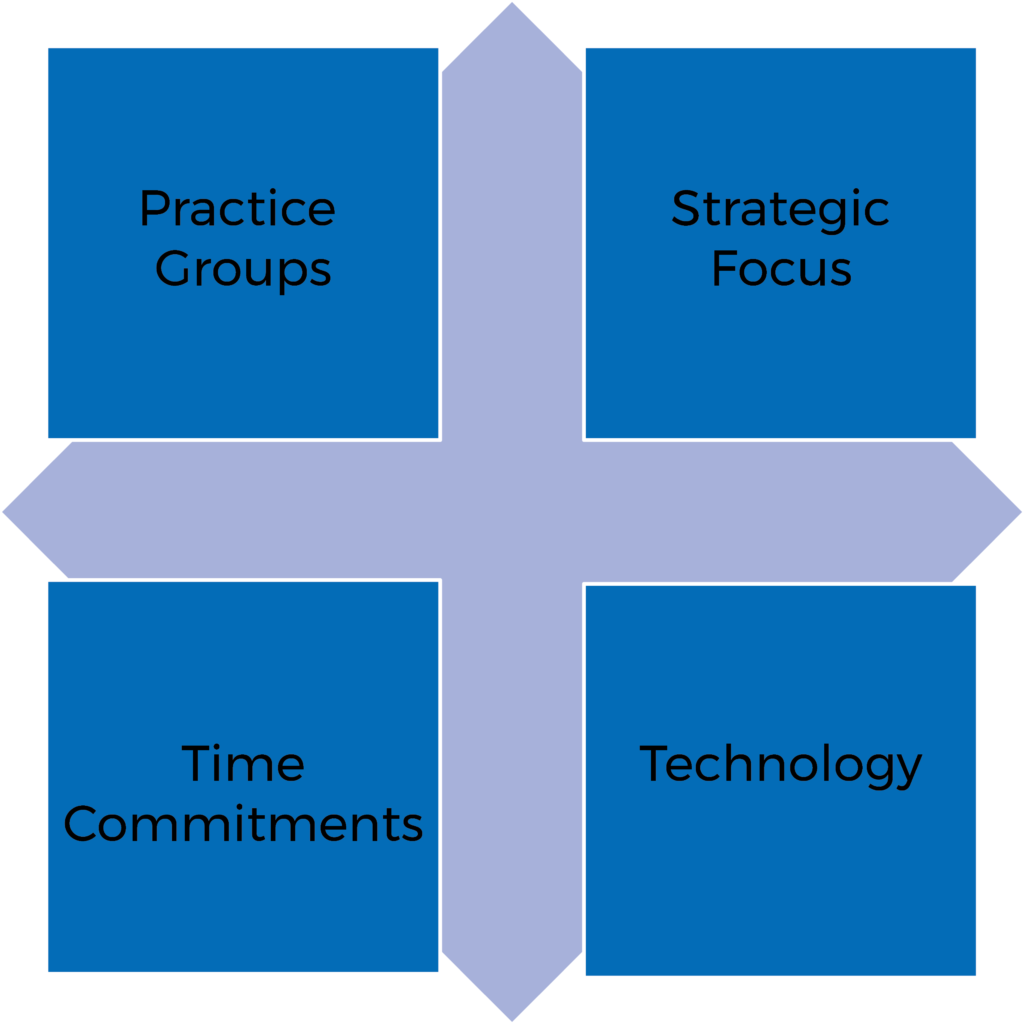 One structure that law firms have used to increase efficiency in their pro bono programs is to create pro bono practice groups that are centered around specialized areas of poverty law such as immigration, landlord-tenant, and nonprofit organizations. Not unlike a billable practice group, each pro bono practice group has a budget and designated leader with expertise overseeing the practice. Practice groups enable efficient and effective pro bono work by providing a relatable structure for training, giving attorneys identifiable mentors within their practice groups, providing supervision, support, and resources for pro bono matters, and cultivating inspiration and momentum to continue pro bono work. Pro bono practice groups also offer an element of collegiality and socialization, allowing people from across the firm to meet, collaborate, and forge meaningful connections. Mirroring the structure of the firm's billable practice and giving attorneys training and expertise in a specialized area increases efficiency by allowing attorneys to work on pro bono matters in a framework with which they are familiar and comfortable.
Just as firms have become laser-focused on identifying billable practice areas of excellence to develop, so too can pro bono practices create areas of pro bono strategic focus to improve efficiency. Instead of trying to be all things to all people (and legal services organizations), some firms have taken a more targeted approach: focusing their pro bono docket on select areas, where firm attorneys have (or are willing to cultivate) significant expertise. This saves time and resources that would have otherwise been dedicated to attorneys constantly having to learn how to practice new areas of poverty law, and, thereby, enables the firm to provide high-quality pro bono work with less start-up time.
Note: A downside of any limiting approach is that the pro bono opportunities could become so narrow as to not be of interest to many firm attorneys. Streamlining cannot come at the expense of participation and engagement.
Offering pro bono opportunities with finite time commitments, such as legal advice hotlines, court-based mediation programs, and advice and referral clinics may also enhance the efficiency of the delivery of legal services to pro bono clients. These opportunities attract attorneys who are otherwise resistant to get involved due to concerns that they do not have the time to dedicate to unlimited, long-term pro bono matters. It also allows the attorneys who already participate in the pro bono practice to potentially engage with more clients by taking advantage of these opportunities during times when their billable practice may not allow them to take on a more extensive  matter. Keeping commitments structured and scheduled within set time parameters can allow the firm to serve more clients and increase efficiency.
Today's technology allows law firms to work more efficiently than ever before, and these same tech tools can be used to make pro bono programs more efficient as well. Automation has allowed law firms to increase productivity and reduce time spent on tasks like time and expense entry, client intake, etc. Online systems can be used to closely track both billable and pro bono hours, thereby making this process more efficient and encouraging attorneys to track their pro bono time on the same system. Online systems can also help firms monitor case management needs by quickly identifying cases that are lacking sufficient attorney coverage, cases where junior attorneys are billing significant time but supervising attorneys are not, and other important data that is critical to increasing their practice's administrative efficiency and risk management guardrails. Tech platforms can also be used to streamline matter placement and make the process of case assignment more efficient.
Cloud-based and remote access legal software have been adopted to give attorneys the flexibility to work where and when they need to, thereby increasing flexibility and overall efficiency. One of the simplest ways technology can benefit the efficiency of a firm's pro bono practice is through its knowledge-sharing capabilities. If, for instance, an attorney is working on an asylum case for the first time and other attorneys in the firm have handled prior cases, the firm's information management platform can provide easy access to information and materials needed to best service the client, such as examples and model documents that had been prepared in prior similar matters, without having to re-invent the wheel. This technological benefit can serve to get more attorneys involved since      even the more complicated matters would no longer seem as daunting. By using this tech to increase efficiency, the extra time and the saved resources that result from leveraging institutional knowledge could be used to further expand the firm's ability to serve pro bono clients.
Hat tip to PBI interns Leah Calabro and Emily Ren for their assistance.