January 22, 2018
It's Pro Bono Podcast Monday: Rolling in the Deep of Pro Bono: 2018 PBI Annual Conference Preview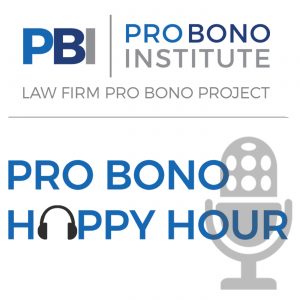 Celebrating the Eagle's big win on Sunday and trip to the Super Bowl? Tune in to the latest episode of our podcast to hear about the multitude of ways you can get a taste of Philly at this year's Conference, including a podcast guest star reunion of three of our favorite Philadelphians (Valentine Brown, Kat McGee, and Kathy Ochroch), who will be leading a session together!
This week on the Law Firm Pro Bono Project's podcast, the Pro Bono Happy Hour, the Law Firm Pro Bono Project's Reena Glazer and Elysse DeRita take listeners behind the scenes of the 2018 PBI Annual Conference.  Hear about new sessions, the many and varied networking opportunities, and find out who will be our surprise VIP at the Annual Conference Reception on February 22. Whether you will be joining us at the Conference next month or not, take 35 minutes to listen to our sneak peek and spend some time with us and Adele.
Some of the highlights that Elysse and Reena discuss include:
The Alston & Bird*† Welcome Reception on Tuesday, February 20. We are grateful to the firm for their generous support and for hosting what has become a popular Conference tradition. (Stay tuned to learn more about pro bono at the firm on an upcoming episode.)
Honoring Gregory B. Jordan and the Legal Department of the PNC Financial Services Group, Inc.** with the Laurie D. Zelon Pro Bono Award for their exemplary commitment to pro bono. We look forward to celebrating with them during a special lunch on February 22. For sponsorship or other information about the lunch, please email Danny Reed or call 202.729.6691
Law Firm 101 and Back to Basics. Be sure you leave the Conference with answers to your pressing pro bono questions. Feel free to submit your questions in advance to Elysse DeRita or leave us a comment.
Roundtable for Experienced Pro Bono Leaders will provide an opportunity for veteran pro bono leaders to spend time together and "go deep" with their seasoned peers. The discussion will be facilitated by two amazing podcast guests: Susie Hoffman and Greg McConnell.
Fires.  Terrorist attacks and armed conflicts.  Travel and refugee bans.  Natural disasters and political upheaval.  We look forward to discussing on February 23 best practices for channeling good intentions into great results and sustained assistance to foster recovery and renewal.  Let's discuss how we can successfully develop protocols in advance that enable pro bono efforts to be proactive, efficient, and effective.
The regular registration rate expires on February 1, so be sure to register today! If you have any questions about the Conference or need assistance with registration, please email events@probonoinst.org or call 202.370.6770.


Subscribe to the Pro Bono Happy Hour on Apple Podcasts and be sure to leave a review! We'd appreciate the feedback and it would help make it easier for other listeners to find the show. The podcast is also available on YouTube. Links to all of our episodes can be found here.
Listen and let us know what you think. Send your comments, thoughts, feedback, questions, and suggestions to probono@probonoinst.org. Be warned: we might just read them on the air.
* denotes a Law Firm Pro Bono Challenge® signatory
† denotes a Law Firm Pro Bono Project® member
** denotes a Corporate Pro Bono Challenge® signatory