November 20, 2017
It's Pro Bono Podcast Monday: A Conversation with Ericka Garcia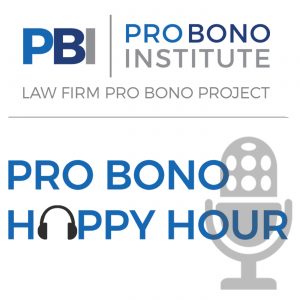 Ericka Garcia, The Florida Bar Foundation's director of pro bono partnerships, joins us this week on the Law Firm Pro Bono Project's podcast, the Pro Bono Happy Hour, to discuss her passion for legal aid, the innovative new projects the Foundation is undertaking, and how access to justice is a major issue for urban and rural residents throughout the state. Ericka was introduced to legal aid as a teenager when she served as a volunteer translator.  That formative experience, among others, motivated her to become a legal aid attorney and an advocate for children with developmental disabilities. Her role at the Foundation is unique: she is as a hub for pro bono efforts by law firms, legal departments, and nonprofit and legal services organizations across Florida. Recently, the Foundation turned its focus to technological solutions to make the placement of pro bono matters more efficient, culminating in the creation of a statewide portal: "Florida Pro Bono Matters." Take 35 minutes to listen to our inspiring conversation with Ericka about the innovative ways technology can extend the reach of pro bono lawyers, her involvement in the legal response to Hurricane Irma, resources available to pro bono lawyers, and more.


Subscribe to the Pro Bono Happy Hour on Apple Podcasts and be sure to leave a review! We'd appreciate the feedback and it would help make it easier for other listeners to find the show. The podcast is also available on YouTube. Links to all of our episodes can be found here.
Listen and let us know what you think. Send your comments, thoughts, feedback, questions, and suggestions to probono@probonoinst.org. Be warned: we might just read them on the air.