August 28, 2017
It's Pro Bono Podcast Monday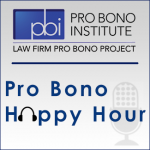 This summer, we welcomed our eighth class of Sheehan Scholars: Madeline Jenks (Harvard Law School) and Erin Killeen (Georgetown University Law Center). Bob Sheehan, who oversees the pro bono program at Skadden, Arps, Slate, Meagher & Flom*†, former Executive Partner (1994-2009) and Co-Chair of the Law Firm Pro Bono Project Advisory Committee (2001-2015), and his family provided the financial support to launch this program in 2010, which has been named in his honor in recognition of his extraordinary pro bono leadership. We are grateful to the Sheehan family for their generosity and to Erin and Madeline for spending their summers with us. They were joined by two terrific undergraduates from the University of Michigan: Kelsey Muniz and Sahil Shah. From expungement to truancy to pro bono for baby boomers and beyond, our interns have researched and written about the wide world of pro bono. Best of all, they came away from their time with us more inspired and optimistic about access to justice. Take 20 minutes to listen to our conversation with Erin, Kelsey, Madeline, and Sahil on the Law Firm Pro Bono Project's podcast, the Pro Bono Happy Hour.


Subscribe to the Pro Bono Happy Hour on Apple Podcasts and be sure to leave a review! We'd appreciate the feedback and it would help us expand the conversation about pro bono and access to justice. The podcast is also available on YouTube. Links to all of our episodes can be found here.
Listen along and let us know what you think. Send your comments, thoughts, feedback, questions, and suggestions to probono@probonoinst.org. Be warned: we might just read them on the air.
* denotes a Law Firm Pro Bono Challenge® signatory
† denotes a Law Firm Pro Bono Project® member