August 14, 2017
It's Pro Bono Podcast Monday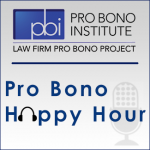 McDermott Will & Emery's*†  Elizabeth Lewis focuses on the firm's pro bono and community service initiatives. A "full service law firm," McDermott's pro bono program is known for its advocacy for LGBTQ individuals, its work representing Sikh soldiers in practicing their religion through a US Army rules change, and more. Elizabeth, the firm's Pro Bono and community Service Partner, says she is "inspired by [McDermott] lawyers" and gets to see the good in humanity every day. Take 45 minutes to listen to Elizabeth share some of her special experiences representing children and families on the latest episode of the Law Firm Pro Bono Project's podcast, the Pro Bono Happy Hour. Based in Chicago, she also reveals whether she is a Cubs or White Sox fan.


 Subscribe to the Pro Bono Happy Hour on Apple Podcasts and be sure to leave a review! We'd appreciate the feedback and it would help us expand the conversation about pro bono and access to justice. The podcast is also available on YouTube. Links to all of our episodes can be found here.
Listen along and let us know what you think. Send your comments, thoughts, feedback, questions, and suggestions to probono@probonoinst.org. Be warned: we might just read them on the air.