June 13, 2017
Verizon Hosts a Clinic in a Box® Program in DC
On June 2, Verizon Communications Inc.** co-hosted

a Clinic in a Box program with the D.C. Bar Pro Bono Center, DLA Piper*†, and Corporate Pro Bono at the Verizon offices in Washington, D.C. This was the 13th Clinic in a Box program Verizon has co-hosted with CPBO. The focus of this clinic was to help nonprofit clients set up their organization's bylaws – a grey area for many nonprofits but also an essential foundation for their long-term success.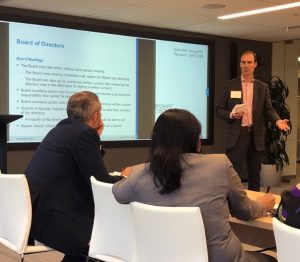 DLA Piper Partner Eric Geppert leads a presentation on nonprofit bylaws.
Verizon invited other legal departments to join its team of in-house volunteers, many of whom were returning participants. A total of 23 volunteers from Verizon, Bank of America Corporation**, Barclays Bank PLC**, Freddie Mac**, UnitedHealth Group Incorporated**, and new Verizon company XO Communications participated. DLA Piper Partner Eric Geppert kicked off the clinic with a volunteer training session on crafting and correcting bylaws for nonprofit organizations in accordance with D.C. law. Following the 90-minute presentation, the group put their training into action, meeting with eight local nonprofit organizations to review and update their bylaws. The clinic's nonprofit clients engage in a wide variety of work serving vulnerable groups and individuals, including providing care and after-school support for young children, finding affordable and supportive housing for women with mental disabilities, and offering aid to pregnant women and parents. After gathering information about their client's organization and its structure, the volunteers, working in teams, collaborated to update the bylaws and send revisions and notes to the clients.
The volunteers' legal assistance at the clinic helped their clients avoid future roadblocks that might prevent the organizations from fulfilling their mission. Many of the volunteers appreciated the opportunity to assist nonprofit organizations, with one participant indicating that the clinic was a "great event and very fulfilling". The clients echoed similar sentiments, commenting that "the team was very knowledgeable about nonprofit bylaws and their best practices".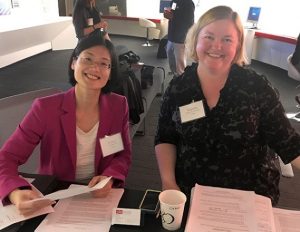 CPBO Director Tammy Sun and CPBO Assistant Director Shannon Graving check in volunteers and clients.
The PBEye thanks all of the co-hosts and volunteers for making this clinic a great success.
ACC chapters and legal departments interested in hosting a similar clinic, can learn more on the Clinic in a Box program webpage and read about previous clinics here. To discuss in-house pro bono, please contact CPBO.
* denotes a Law Firm Pro Bono Challenge® signatory
† denotes a Law Firm Pro Bono Project® member
** denotes a Corporate Pro Bono Challenge® signatory
Hat tip to PBI Intern Sahil Shah for his help with this story.