March 6, 2017
It's Pro Bono Podcast Monday: Get to Know Our Speakers – Part 2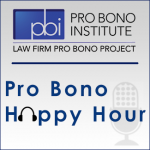 The 2017 PBI Annual Conference is only a few days away! Need some listening material while you pack? Tune in to our most recent episode, Ready, Set, Go! 2017 PBI Annual Conference Preview. During this special episode, the Law Firm Pro Bono Project discusses what's new this year, opportunities for networking, cutting-edge issues that will be featured, and more.
Interested in learning more about our speakers as you prepare to attend?  Since the Law Firm Pro Bono Project launched our podcast, the Pro Bono Happy Hour, in October 2015, we have had the opportunity to feature a variety of guests from law firms and public interest organizations; many of whom will be speakers at the Conference.
Check out these episodes with public interest and law firm pro bono leaders who will be facilitating Conference Sessions:
Subscribe to the Pro Bono Happy Hour in iTunes. Have you rated us on iTunes yet? Would you consider doing it now? We'd appreciate the feedback and it would help make it easier for others to find the show and expand the conversation about access to justice. The podcast is also available on YouTube. Links to all of our episodes can be found here.
If you have any questions about the Conference or need assistance with registration, please email events@probonoinst.org or call 202.370.6770.

* denotes a Law Firm Pro Bono Challenge® Signatory
† denotes a Law Firm Pro Bono Project® Member