February 14, 2017
Capital One – Ringing in 2017 with Pro Bono
On January 31, Capital One Financial Corporation** co-hosted a Clinic in a Box® Program – Legal Audit with CPBO, McGuireWoods LLP*†, and United Way of the National Capital Area. Twenty-six Capital One volunteers met at the McGuireWoods office in Tysons, Virginia, to receive training and assist ten local nonprofits with a legal audit. Attorneys from McGuireWoods led an hour and a half long training that offered instruction on five areas of law vital to the upkeep of Virginia nonprofits: governance, intellectual property, employment, human resources, and fiscal management. Once the training concluded, the volunteers broke into teams and went to work with their pre-assigned clients.
Over the course of more than two hours,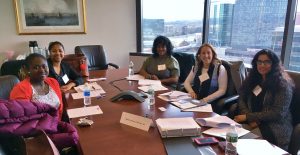 volunteers utilized a detailed checklist to ask questions, review current practices, provide advice, and identify areas for follow-up.  Through providing legal assistance to these nonprofits, volunteers help ensure the services these nonprofits offer their communities — ranging from support for survivors of domestic violence to housing for the homeless — can continue. One client summed up the importance of the clinic by saying, "Very useful time spent. You don't know what you don't know. A review like this is so beneficial to be proactive in addressing concerns!" Thank you to the organizers, volunteers, and trainers who aided not only the 10 nonprofits present, but the estimated 24,500 clients they reach.
ACC chapters and legal departments interested in hosting a similar clinic, can learn more on the Clinic in a Box® program webpage and read about previous clinics here. To discuss in-house pro bono, please contact CPBO.
* denotes a Law Firm Pro Bono Challenge® signatory
† denotes a Member of the Law Firm Pro Bono Project
**denotes a Corporate Pro Bono Challenge® signatory