December 20, 2016
Another Successful Pro Bono Clinic at the ACC Annual Meeting
CPBO partnered with the San Francisco

 Bay Area ACC Chapter and DLA Piper*† to host the 16th Clinic in a Box® Program at an ACC Annual Meeting.  Like the Clinic in a Box® Program – Select Topic hosted at the 2015 ACC AM, the clinic offered a focused program, this time dedicated to wage and hour policies – including the upcoming December 2016 Department of Labor and Regulatory Changes – and anti-discrimination and anti-harassment policies – with a particular focus on LGBT issues in the workplace.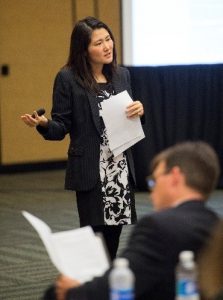 The clinic began with 21 lawyers from around the world attending a training hosted by attorneys from DLA Piper.  Once trained, attorneys broke into teams and met with four nonprofits from the San Francisco Bay Area to review their wage and hour and anti-discrimination and anti-harassment policies.
The nonprofit organizations attending the clinic offer a wide range of services to the Bay Area community, including providing artists with mental disabilities the means to create and exhibit their art, developing community leaders through environmental education, offering educational and therapeutic services to children with emotional disturbance or developmental delays, and making sure veterans have the resources and support they need.
Both the clients and volunteers provided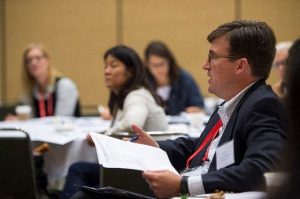 positive feedback on their experience.  Clients noted their appreciation of the clinic and volunteers by saying "Thank you so much" and that they'd received, "Excellent employee handbook review!"  Volunteers also stated that they "loved doing this," and that the clinic "was a great experience."
To read more about past CPBO Clinic in a Box® programs, please click here. To learn more about hosting a Clinic in a Box® program or about in-house pro bono, please contact CPBO at cpbo@probonoinst.org.
Photos by Scott Dressel-Martin.
* denotes a Law Firm Pro Bono Challenge® signatory
† denotes a Member of the Law Firm Pro Bono Project