December 1, 2016
Step Right Up & Win a Prize
In October, we ran a Pro Bono Happy Hour podcast review contest. We are happy to announce our winning listener, who wrote, in part:
I love this podcast! I'm interested in social justice issues, but I'm not an attorney, and this show makes it so easy to learn about pro bono work even without a legal background. It's inspiring to hear about all the amazing work people are doing … And the book recommendations are amazing too. Thank you and keep up the good work! – @apple123456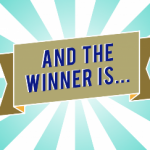 Thank you for the review, apple123456! We are grateful for your encouragement and appreciate your feedback, which makes it easier for others to find the show and expand the conversation about access to justice.
Want a prize? Rate us on iTunes and leave a review by December 31st to be entered in our holiday podcast contest. The Pro Bono Happy Hour is also available on YouTube. Links to all of our episodes can be found here.