October 4, 2016
A Month of the CLO & Pro Bono Series
Interested in the world of in-house pro bono? We've created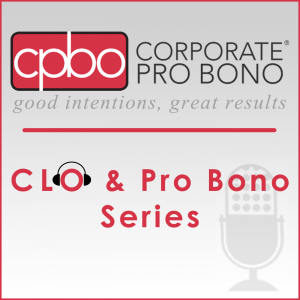 a brand new podcast just for you! PBI's newest podcast series, the CLO & Pro Bono Series has been on air for a month, featuring the following chief legal officers of Corporate Pro Bono Challenge® signatories discussing the importance of pro bono and equal access to justice:
Wish you could know the second a new podcast comes out?  Then subscribe to the CLO & Pro Bono Series Podcast in iTunes. Have you rated us on iTunes yet? Yes? Thank you! No? Would you consider doing it now? The podcast is also available on YouTube. Links to episodes can be found here. Join the conversation today!
We're still learning, so listen along and let us know what you think. Send your comments, thoughts, feedback, questions, and suggestions to CPBO.
† denotes a Member of the Law Firm Pro Bono Project
* denotes a Law Firm Pro Bono Challenge® signatory
** denotes a Corporate Pro Bono Challenge® signatory