October 3, 2016
It's Pro Bono Podcast Monday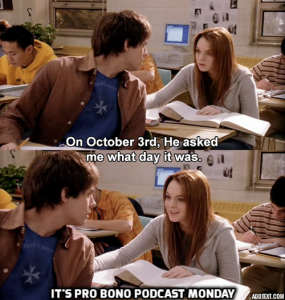 In the movie "Mean Girls", on October 3rd, Aaron Samuels asked Cady Heron what day it was. Today, her answer would be, it's pro bono podcast Monday! Tune in to Law Firm Pro Bono Project's podcast, the Pro Bono Happy Hour, and learn about exciting and meaningful developments in the world of law firm pro bono and access to justice.  Want to learn more about the world of in-house pro bono? Check out Corporate Pro Bono's new podcast, the CLO & Pro Bono Series, which features Chief Legal Officers discussing the importance of pro bono and equal access to justice.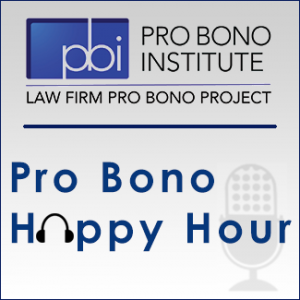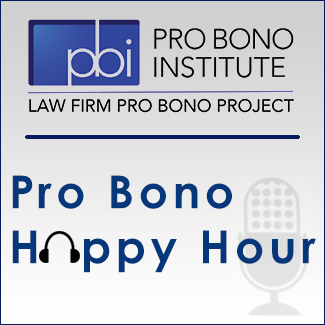 Don't miss our recent interview with Marcia Tavares Maack of Mayer Brown*†.  Marcia talks to us  about the firm's pro bono program, keys to pro bono success, innovative pro bono projects, her career, and more. Subscribe to the Pro Bono Happy Hour in iTunes or YouTube for more episodes!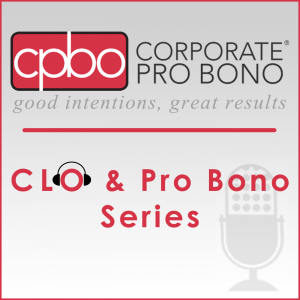 Tune into CLO & Pro Bono Series to listen to insightful discussions with chief legal officers of Corporate Pro Bono Challenge® signatories about the pro bono efforts at their departments and how they are working to improve access to justice. New and past episodes can be found on iTunes and YouTube.
Listen along and let us know what you think. Send your comments, thoughts, feedback, questions, and suggestions to probono@probonoinst.org. Be warned: we might just read them on the air.
* denotes a signatory to the Law Firm Pro Bono Challenge®
† denotes a member of the Law Firm Pro Bono Project