September 12, 2016
It's Pro Bono Podcast Monday: Now with Two Times the Pro Bono!
Interested in the world of in-house pro bono? Tune in to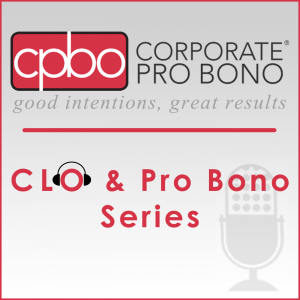 Pro Bono Institute's newest podcast series, the CLO & Pro Bono Series, and listen to chief legal officers of CPBO Challenge® signatories discuss the importance of pro bono and equal access to justice.
Our very first interview is with Craig Silliman, Executive Vice President of Public Policy and General Counsel of Verizon Communications**. Silliman shares highlights from his department's pro bono efforts and why he is passionate about access to justice.
Like what you hear? Then subscribe to the CLO & Pro Bono Series Podcast in iTunes. Have you rated us on iTunes yet? Would you consider doing it now? The podcast is also available on YouTube. Links to this and all future episodes can be found here. Join the conversation today!
We're brand new so listen along and let us know what you think. Send your comments, thoughts, feedback, questions, and suggestions to cpbo@probonoinst.org.
† denotes a Member of the Law Firm Pro Bono Project
* denotes a Law Firm Pro Bono Challenge® signatory
** denotes a Corporate Pro Bono Challenge® signatory