July 27, 2016
ACC Chicago Expands Its Pro Bono Offerings
For the f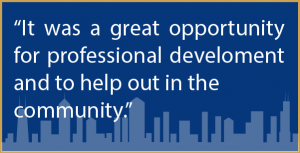 irst time, ACC Chicago, along with co-hosts CPBO, DLA Piper*†, and The Law Project held a CPBO Clinic in a Box® Program – Select Topic on July 14 at DLA Piper. ACC Chicago has hosted the CPBO Clinic in a Box® Program – Legal Audit for many years and was excited to offer a new opportunity to its members that could re-engage previous attendees and enable volunteers to provide clients with completed documents.
The new version was a hit! Volunteers who have attended many years, alongside first-time attendees, met with representatives of 13 local nonprofit organizations to review and revise their bylaws and draft or revise conflicts of interest policies.
To prepare for the clinic, the volunteers began the day with an hour and a half training session led by attorneys from DLA Piper that offered a deep dive into bylaws and conflict of interest policies for nonprofit organizations. One volunteer discussed the usefulness of the select topic by saying, "It was a great opportunity for professional development and to help out in the community."  Volunteers came from a wide variety of legal departments across the area, including Aon Corporation**, Discover Financial Services**, McDonald's Corporation**, and Verizon Communications Inc.**.

Through providing legal assistance to these nonprofits, the volunteers have helped ensure the services they offer their communities — ranging from support for families in the child welfare system to local arts programming — can be sustained. One client summed up the importance of the clinic by saying, "This clinic was so valuable to our organization – thank you!"  Congratulations and thank you to the 39 volunteers who aided not only the 13 nonprofits present, but the estimated 111,200 clients they serve.
ACC chapters and legal departments interested in hosting a similar clinic, can learn more at Clinic in a Box® program and read about previous clinics here. To discuss in-house pro bono, please contact CPBO.
* denotes a Law Firm Pro Bono Challenge® signatory
† denotes a Member of the Law Firm Pro Bono Project
**denotes a Corporate Pro Bono Challenge® signatory