May 6, 2016
Tenth Anniversary of the CPBO Challenge® Initiative

The PBEye is excited to celebrate the 10th anniversary of CPBO's Corporate Pro Bono Challenge® initiative. What a decade it has been! Since its launch, the CPBO Challenge® initiative has become the industry standard for in-house pro bono with nearly 150 signatories that represent 36 subindustries and range in size from one to nearly 1,100 in-house lawyers. Signatories engage in a wide array of pro bono efforts, from participating in time-limited clinics to developing large-scale signature projects in partnership with other departments, law firms, and public interest organizations.
While some signatories have developed highly sophisticated programs, many others are just beginning to formalize their pro bono programs. However, all those who have signed the CPBO Challenge® statement and publicly declared their commitment to access to justice, now share aspirational goals to:
encourage and promote pro bono service by their legal department staff; and
use their best efforts to encourage their staff, including at least one-half of their legal staff, to support and participate in pro bono service; and
encourage the outside law firms with whom they work to acknowledge publicly their support for pro bono by becoming signatories to PBI's Law Firm Pro Bono Challenge®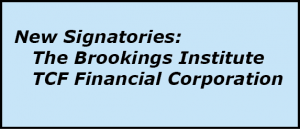 The PBEye congratulates Vice President and General Counsel Ona Dosunmu as well as CPBO Challenge® statement and making The Brookings Institute and TCF Financial Corporation the newest signatories.
For more details about the CPBO Challenge® initiative's accomplishments over the past ten years, take a look at the CPBO Challenge® 10 Year Anniversary Celebration webpage, including the page's dynamic timeline highlighting milestones along the way.
Has your legal department signed the CPBO Challenge® statement? If not, contact CPBO soon so your department's work may be included at the 2016 PBI Annual Dinner in New York this November.