April 15, 2016
Upcoming Webinar: Global Due Diligence Manual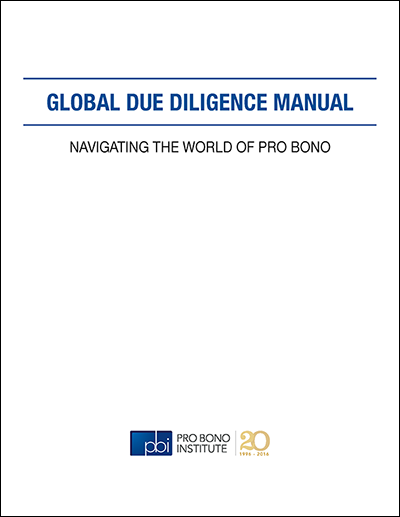 Join us Thursday, May 5 at 12:00 p.m. ET for "Global Due Diligence Manual" a one-hour program hosted in conjunction with West LegalEdCenter.
PBI's new Global Due Diligence Manual, produced in partnership with several global law firms, is a hands-on guide intended to help you locate, vet, and take on global pro bono opportunities. Join us for a discussion of clearinghouses, major NGO clients, research projects, and more. Learn how the Manual can help you expand your global pro bono program.
Confirmed Speakers:
Wendy Atrokhov, Latham & Watkins*†
Lisa Dewey, DLA Piper *†
Lou O'Neill, White & Case*†
Interested in-house counsel should contact CPBO Project Assistant Virginia Lyon for registration information or to submit questions in advance of the program. Registration is free for Law Firm Pro Bono Project Member Firms. Law firm participants should contact Law Firm Pro Bono Project Assistant Eva Richardson for registration information.
Schedule conflict? Don't worry – the program will also be available on-demand shortly after the original broadcast date.
* denotes a Signatory to the Law Firm Pro Bono Challenge®
† denotes a Member of the Law Firm Pro Bono Project
** denotes a Signatory to the Corporate Pro Bono Challenge®