February 12, 2016
Capital One Clinic Kicks off 2016
Winter Storm Jonas dropping more than a foot of snow on Richmond, Virginia, a few days earlier failed to chill the enthusiasm of 32 volunteers at the Clinic in a Box® Program – Legal Audit, co-hosted on January 28, by CPBO, Capital One Financial Corporation**, Troutman Sanders*†, and Greater Richmond Bar Foundation (GRBF).
It was the second clinic hosted at the Troutman Sanders Richmond office and staffed by Capital One volunteers, many of whom returned to receive expert training from attorneys at Troutman Sanders and meet in teams to provide a legal health check-up to 11 local nonprofit organizations invited by GRBF. Feedback from volunteers included comments on how much they "enjoyed the experience" and "loved the opportunity" to help clients, while also finding the training session to be "very informative."

Clients were led through a detailed checklist covering governance, employment, intellectual property, real estate, and tax matters. The purpose of the audit is to proactively address legal questions, both known and latent, to avoid future costly issues that might impair the organizations' ability to continue their good work in the community, including advocating for civil rights, mentoring children, providing medical and dental care and pharmacy services, and preventing and reducing substance abuse. After the clinic, clients remarked that they learned "a great deal more than [they] expected!" and found the experience working with the Capital One volunteers to be both "wonderful" and "very valuable."
The PBEye congratulates Capital One on a successful clinic.
Th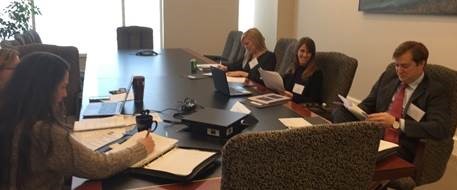 e Clinic in a Box® program is a time-limited pro bono opportunity that allows in-house lawyers and other department staff to work together to provide meaningful assistance to organizations that serve the local community. Those interested in reading more about past CPBO Clinic in a Box® programs should click here. To learn more about hosting a Clinic in a Box® program, please contact CPBO Director Eve Runyon.
**denotes a Corporate Pro Bono Challenge® signatory
* denotes a Signatory to the Law Firm Pro Bono Challenge®
† denotes a Member of the Law Firm Pro Bono Project