January 21, 2016
May the Pro Bono Force Be With You – at the PBI Annual Conference (Part Two)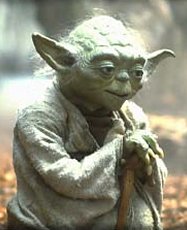 Last week, inspired by "Star Wars: The Force Awakens," we shared some of Yoda's wisdom and lessons for law firm pro bono. Today, we channel Yoda for three compelling reasons to attend the 2016 Pro Bono Institute Annual Conference (March 23-25) in Washington, DC:
"Size matters not. Look at me. Judge me by my size, do you? Hmm? Hmm. And well you should not."
Many mid-size law firms support accomplished, nimble, and sustained pro bono programs. What does the future hold for these firms? "Making Pro Bono Successful at Mid-Size Firms" (Wednesday, March 23) will explore best practices and the unique challenges and features of a mid-size firm. The discussion is custom designed for firms with fewer than 500 lawyers.
"You must unlearn what you have learned."
Some in the pro bono community may still hold outdated assumptions about in-house pro bono. Skeptics will be disappointed to learn that interest and engagement in in-house pro bono continues to thrive and evolve. "Developments in In-House Pro Bono – Perspectives from Chief Legal Officers" (Thursday, March 24) will offer an overview of the state of in-house pro bono and will address the growth of pro bono within legal departments and what these developments mean for pro bono supporters at law firms, legal departments, and public interest organizations.
"In a dark place we find ourselves, and a little more knowledge lights our way."
New to law firm pro bono? Don't feel overwhelmed or in a dark place. You are not alone. Come early for "a little more knowledge." "Law Firm Pro Bono 101" (Wednesday, March 23) is a pre-Conference bonus session designed for leaders at law firms that have recently created or restructured a formal pro bono program and for managing partners, pro bono committee chairs, pro bono partners, counsel, directors, managers, and coordinators who are new to their positions. This program offers a comprehensive, participatory crash course on the basics of structuring, implementing, and administering successful law firm pro bono programs. Law Firm Pro Bono Project staff members will introduce you to the resources and support available from the Project all year round. Pre-registration is required for this program. Space is limited and available on a first-come/first-served basis, so register today.
* * *
If you have questions about the Conference or need assistance with registration, please email us or call 202.973.8720.