December 8, 2015
Central Ohio Pro Bono Series Launches a New Model
Over the past two and a half years, ACC Central Ohio Chapter (CO-ACC), United Way of Central Ohio (UWCO), Barnes & Thornburg*†, and CPBO have been developing and refining a new off-the-shelf model: Clinic in a Box® Program – Legal Education.  This model provides in-house counsel the opportunity to educate nonprofit organizations or small businesses on select legal topics, as well as answer questions and provide brief advice, all over the course of two hours.
On October 29, the team hosted its fourth in a series of these programs for nonprofit organizations in and around Columbus, Ohio. At each program, the team trained and provided advice on specific topics selected by the co-hosts.  To date, the topics have been:
Legal Advice re Employees, Contractors, Volunteers, and Interns
The creation of this new off-the-shelf model started at a Clinic in a Box® Program – Legal Audit hosted by the team in May 2013. Rewarding for clients and volunteers, the clinic inspired Eric Henricks, assistant general counsel at Nationwide Insurance** and past chair of CO-ACC's pro bono committee, to suggest creating an avenue for CO-ACC members to assist UWCO member nonprofits throughout the year. That idea and many months spent developing the initial concept has culminated in a new model for ACC chapters and legal departments.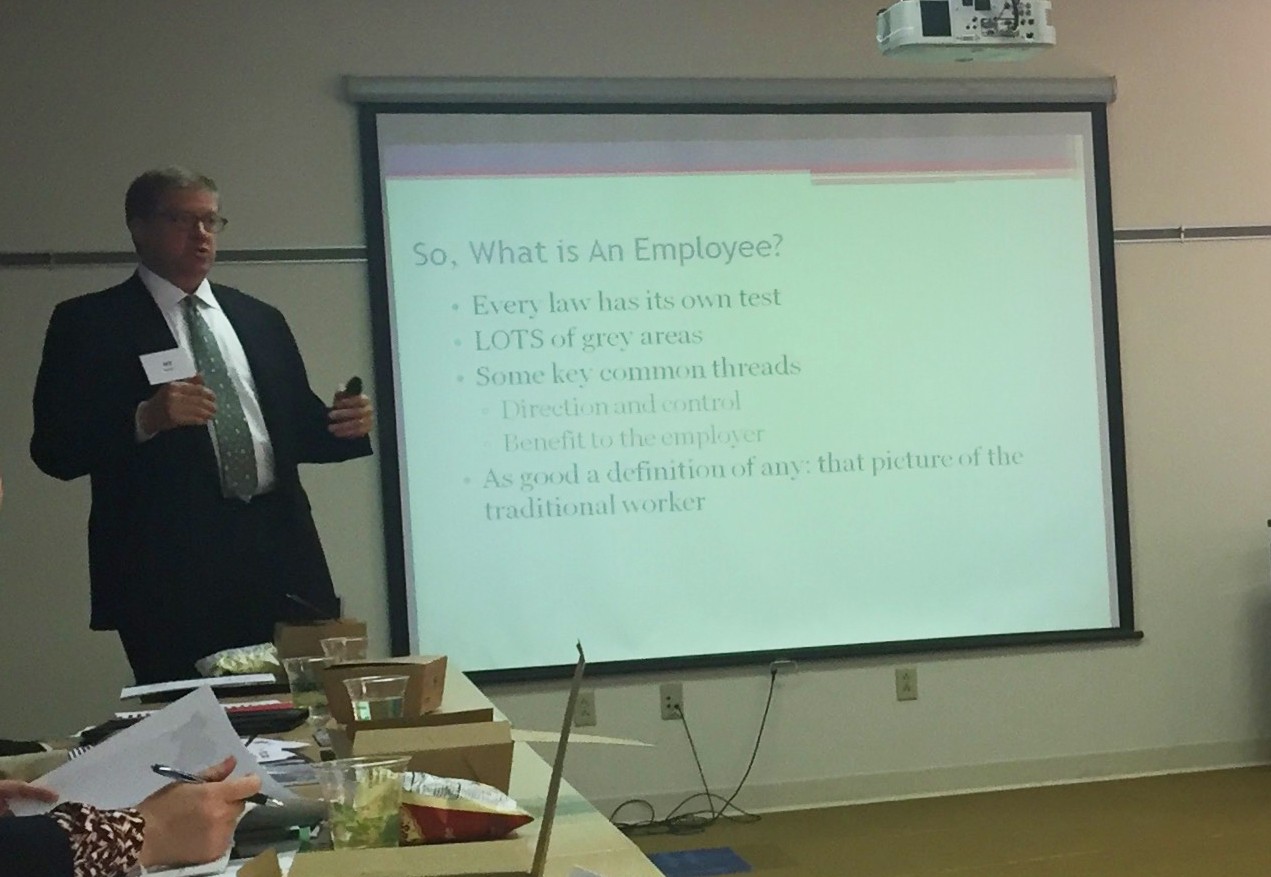 At the most recent event, presenters Robin Foster, general counsel, Americas at Exact Software; Paul Nesbitt, senior corporation counsel, American Cancer Society, Inc.; Bill Nolan, partner, Barnes & Thornburg; and Lori Maiorca Zancourides, director – employment and litigation counsel, The Wendy's Company, spent one and a half hours providing representatives from local nonprofit organizations with an overview of the legal issues involved with engaging the services of employees, contractors, volunteers, and interns. A brief advice period of 30 minutes followed, during which the presenters met with interested attendees one-on-one to answer specific questions.

Like the other Clinic in a Box® programs, the Clinic in a Box® Program – Legal Education is produced in collaboration with CPBO, legal departments or ACC chapters, major law firms, and local public interest organizations. It differs in that there is no training for volunteers because the model utilizes their current areas of expertise. In addition, it is a more flexible option with regard to attendance; a few volunteer presenters can help a small to large group of attendees with relative ease. The two hour program may be hosted as a series or may stand alone as an individual event.
The PBEye congratulates CO-ACC, UWCO, Barnes & Thornburg, and CPBO on another successful event assisting nonprofits that in turn provide important services to the Columbus community! To co-host a Clinic in a Box® program please contact CPBO Director Eve Runyon.
* denotes a Signatory to the Law Firm Pro Bono Challenge®
† denotes a Member of the Law Firm Pro Bono Project