July 24, 2015
In-House Pro Bono in Chicago
Last week,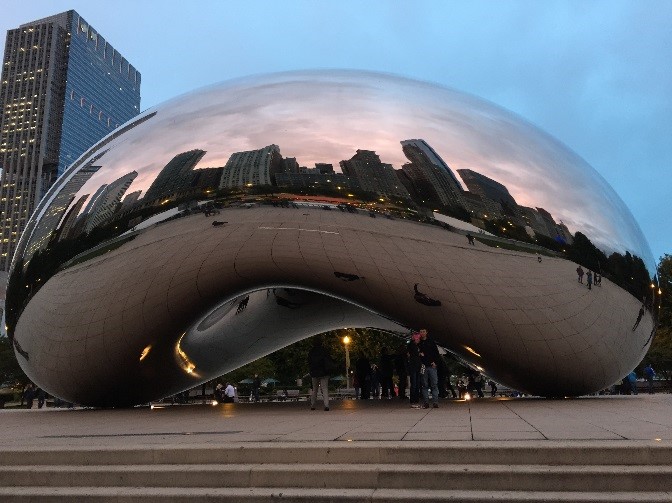 CPBO returned to Chicago to meet with in-house pro bono leaders from the metro area as well as co-host the annual ACC Chicago Clinic in a Box® program with the ACC Chicago Chapter, DLA Piper*†, and the Law Project.
First, CPBO met with local in-house pro bono leaders to discuss ways to build and improve in-house pro bono programs and to share recent developments in in-house pro bono.  Hosted by Aon Corporation**, attendees talked about how they can collaborate to further expand in-house pro bono and assist those in need.
Early the next day, at the offices of DLA Piper, CPBO welcomed 54 attorneys and professional staff from legal departments throughout Chicagoland, who were eager to assist 15 of the area's local nonprofits. To prepare for the clinic, the volunteers, who came with a wide variety of practice experience, began the day with an hour and a half training session led by attorneys from DLA Piper, covering five areas of law relevant to nonprofit organizations. Volunteers then worked in teams to conduct a legal audit of their assigned client, identifying issues of concern and providing guidance as needed.
Through providing legal assistance to these nonprofits, the volunteers have helped ensure the services that these organizations offer to the community — ranging from support for senior citizens to employment services to local arts programming — can be sustained.  One client expressed great appreciation for the "detailed and practical information" and another remarked that the takeaways from the clinic will "truly enhance the operations of [the] organization." Congratulations to the volunteers for their dedication to increasing access to justice!
Those interested in reading more about in-house pro bono training opportunities, including past CPBO Clinic in a Box® programs, should click here and here. To learn more about hosting a Clinic in a Box® program or about in-house pro bono, please contact CPBO Director Eve Runyon.
* denotes a Signatory to the Law Firm Pro Bono Challenge®
† denotes a Member of the Law Firm Pro Bono Project
**denotes a Corporate Pro Bono Challenge® signatory