May 5, 2015
Final Reminder: CPBO Partner Award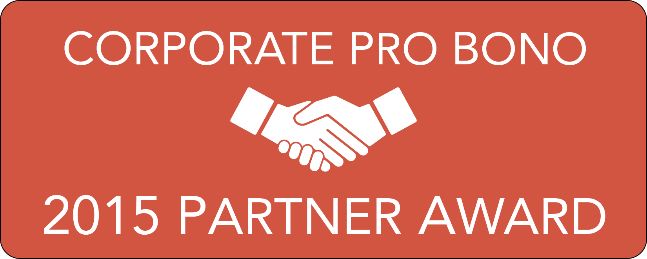 With just a few days left, be sure to submit your nomination for the 2015 CPBO Pro Bono Partner Award! Nominations are due Friday, May 8 and can be submitted via email or mail. Keep in mind that, new for this year's selection process, CPBO may now present two awards: (1) to a partnership that includes a legal department of 50 or more lawyers; and (2) to a partnership that includes a legal department of 49 or less lawyers
The award(s), to be presented at the 2015 PBI Annual Dinner, recognize(s) innovative team approaches to pro bono work involving in-house legal departments, law firms, and public interest groups. Recipients of the award(s) must include at least one legal department and one or more law firms and/or public interest group partners.
Last year, CPBO presented the Pro Bono Partner Award to American International Group, Inc.** and the Iraqi Refugee Assistance Project (IRAP) for their innovative partnership to provide pro bono legal services to Afghan refugees whose lives are in danger due to their work with the U.S. government. A full list of previous awardees can be found here.
For more information about the award, please contact CPBO Director Eve Runyon or click here.
**denotes a Corporate Pro Bono Challenge® signatory