April 3, 2015
2015 CPBO Pro Bono Partner Award Nominations
 
CPBO is now accepting nom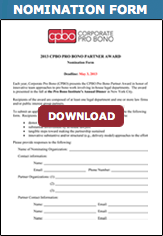 inations for the 2015 CPBO Pro Bono Partner Award. The award recognizes innovative team approaches to pro bono work involving in-house legal departments, law firms, and public interest groups. Nominations must include at least one legal department and one or more law firms and/or public interest group partners. The award will be presented at the Pro Bono Institute Annual Dinner in New York City on November 5, 2015.
CPBO presented last year's award to American International Group, Inc.**, in partnership with Iraqi Refugee Assistance Project (IRAP), for their collaborative effort to serve the legal needs of refugees in the Middle East and North Africa, whose lives are in imminent danger due to their work with the U.S. government. Together, AIG and IRAP's work has ranged from successfully obtaining a visa for a client so that he can begin a new life in the U.S. to contributing to three major policy/legislative victories. The first victory in October 2013 was the extension of the Iraqi Special Immigration Visa (SIV) program, followed by landmark legislation that made improvements to the SIV application process, including giving SIV applicants access to counsel in overseas proceedings and the right to appeal SIV rejections, and finally the addition of 1,000 visas to the Afghan SIV program.
A full list of previous awardees can be found here. To nominate a pro bono partnership, please complete a nomination form and submit a letter of nomination no later than May 8, 2015.
Award criteria and the nomination form are available here. For more information about the award, please contact CPBO Director Eve Runyon.
**denotes a Corporate Pro Bono Challenge® signatory