February 20, 2015
Sharing Perspectives: Visitors from the Philippines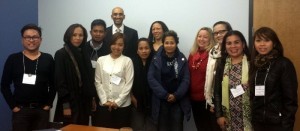 Earlier this month, PBI and CPBO were honored to welcome a delegation from Mindanao in the Southern Philippines, in a trip organized by the U.S. State Department. The delegation, composed primarily of Filipino law student leaders, came to exchange views on the development of pro bono structures, culture, and leadership. The group sat down with Law Firm Pro Bono Project Director Tammy Taylor, CPBO Director Eve Runyon, and Global Pro Bono Coordinator Sri Katragadda.
Two of the non-law students in the delegation: Eldred Cole, deputy regional prosecutor of Dumaguete City and Rhobert Maestre, president of the Mindanao Youth Volunteer Corps, provided details on the country's mandatory 60 hour annual pro bono requirement and a brief look at the country's legal profession. Both voiced an eagerness to advance the culture of pro bono and noted that this would ultimately be accomplished by involving the next generation of lawyers; hence the group's heavy composition of law students. We were inspired by the thoughtful questions of these students, including law school clinic leaders, who are passionate about enhancing the profile of pro bono within the Filipino legal sector. For our part, PBI and CPBO discussed the history of pro bono development in the U.S. We noted that development of pro bono can be seen as both cultural — a growing expectation that pro bono is a normal part of an attorney's practice — as well as structural — the institutional development of pro bono programs.
Stay tuned for more pro bono developments in the Philippines from our new friends.