January 29, 2015
Don't Miss the Expo Lunch!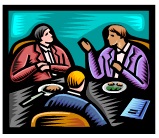 The 2015 PBI Annual Conference is rapidly approaching and The PBEye is excited to provide a sneak peek of the public interest organizations that will be featured at the Pro Bono Expo Lunch on Thursday, March 5. A record-number of prominent organizations will be hosting tables, and their expert representatives will share emerging issues, strategies, and innovations; answer questions; and provide information about cutting-edge pro bono opportunities available to your law firm or legal department. This is a unique opportunity to network, forge productive relationships and partnerships with public interest organizations from across the U.S. and around the world, and develop major pro bono initiatives.
Several organizations are hosting tables for the first time this year, including:
• The Public International Law & Policy Group
Register now to take advantage of this opportunity to engage with leaders in the access to justice and pro bono community. If you have questions about the Conference or need assistance with registration, please email us or call 202.973.8720. We hope to see you there!