December 5, 2014
A Great Pro Bono Lesson
On November 19, CPBO,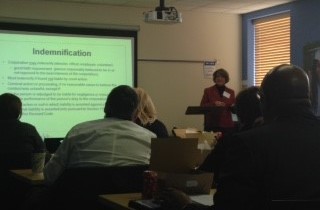 Central Ohio ACC Chapter (CO-ACC), United Way of Central Ohio, (UWCO), and Barnes & Thornburg*† co-hosted the second in a series of free legal education programs for nonprofits that are UWCO member agencies. This series was inspired by the Clinic in a Box® program, and provides critical legal information to nonprofit organizations in the Columbus, Ohio area that are unable to afford legal services by engaging local in-house counsel who are eager to share their knowledge and skills with organizations in their community.  The topic of the November 19 program was nonprofit governance. Nearly two dozen representatives of UWCO member agencies attended the event.
To start, Nathan Holschuh, pro bono committee chair, CO-ACC, and Jawana Richardson, assistant vice president of accountability and operations, UWCO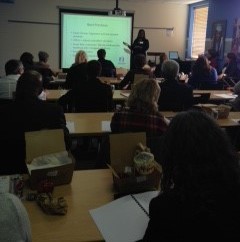 , welcomed the attendees to the program.  Presenters Veronica Bennu, managing counsel, Nationwide Mutual Insurance Company**, Rhonda Comer, senior vice president and general counsel, Nationwide Children's Hospital, and Julie Veldman, associate, Barnes & Thornburg, then spoke about the legal aspects of nonprofit governance, including best practices relating to boards of directors and governance documents as well as compliance with IRS and Ohio legal requirements.
Following the presentation, attendees were given the new option of meeting individually with volunteer attorneys to receive brief advice on governance issues specific to their organizations. At least a fourth of the nonprofit attendees did so.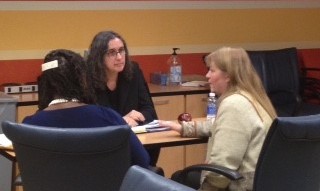 The PBEye congratulates the co-hosts on another successful program and looks forward to reporting on future installments in the series!   In-house pro bono leaders interested in co-hosting a Clinic in a Box® program or developing a legal education or similar program can contact CPBO Director Eve Runyon.
† denotes a Member of the Law Firm Pro Bono Project
* denotes a Law Firm Pro Bono Challenge® signatory
**denotes a Corporate Pro Bono Challenge® signatory