June 19, 2014
Upcoming Webinar: Transactional Pro Bono Projects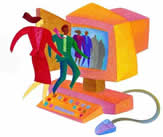 Join us on June 25 at 1:00 p.m. EDT for "Marketplace of Ideas: Transactional Pro Bono Projects." This one-hour program, hosted in conjunction with West LegalEdcenter, is the second in our series of "Best of the 2014 PBI Annual Conference" webinars reprising and supplementing some of the most popular sessions from the Conference.
This program will feature brief presentations on a number of transactional (non-litigation/business-related) pro bono projects. Presenters and topics will include:
• Joe Genereux, Dorsey & Whitney*†
Collaborations with SCORE/Small Business Development Center Program
• Harlene Katzman, Simpson, Thacher & Bartlett*
Small Business Legal Academy
• Erik Metzger, Intel Corporation**
California Inventor Assistance Program
• Deanne Ottaviano, Arent Fox*†
D.C. Nonprofit Law Change Training
Involving non-litigators in your pro bono efforts is one of the most effective ways to enhance pro bono performance, serve more clients, and broaden institutional support for pro bono. Yet law firms and legal departments often report difficulty in finding a steady, varied, and reliable stream of appropriate transactional pro bono matters. Learn about and be inspired by these replicable offerings and developments in transactional pro bono.
Registration is free for Law Firm Pro Bono Project Member Law Firms. Law firm participants should contact Law Firm Project Assistant Eva Richardson for registration information or to submit questions in advance of the program and in-house participants should contact CPBO Project Assistant Josh Lefebvre.
Schedule conflict? Don't worry – the program will also be available on-demand. And, if you want even more ideas for your business lawyers, check out last year's "Marketplace of Ideas: Transactional Pro Bono Projects" program at your convenience.
* denotes a Signatory to the Law Firm Pro Bono Challenge®
† denotes a Member of the Law Firm Pro Bono Project
**denotes a Signatory to the Corporate Pro Bono Challenge®