March 12, 2014
2014 CPBO Pro Bono Partner Award Nominations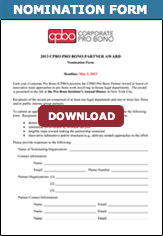 CPBO is now accepting nominations for the 2014 CPBO Pro Bono Partner Award. The award recognizes innovative team approaches to pro bono work involving in-house legal departments, law firms, and public interest groups. Nominations must include at least one legal department and one or more law firms and/or public interest group partners. The award will be presented at the Pro Bono Institute Annual Dinner in New York City on November 6, 2014.
CPBO presented last year's award to Hewlett-Packard Company**, in partnership with Morgan, Lewis & Bockius*†, and National Veterans Legal Services Program, for their delivery of pro bono legal services to veterans with post traumatic stress disorder.  In response to a partial resolution from a class action suit involving the systematic underrating of disability levels, Morgan Lewis worked with Hewlett-Packard to develop a corps of more than 100 volunteers to provide follow-up counseling. Following the suit's permanent settlement in 2011, the partnership continued to assist those eligible for a special military benefit.
A full list of previous awardees can be found here. To nominate a pro bono partnership, please complete a nomination form and submit a letter of nomination no later than May 9, 2014.
Award criteria and the nomination form are available here. For more information about the award contact Eve Runyon at 202.729.6694.
* denotes a Signatory to the Law Firm Pro Bono Challenge®
† denotes a Member of the Law Firm Pro Bono Project
**denotes a Signatory to the Corporate Pro Bono Challenge®