February 14, 2014
A Global Food Court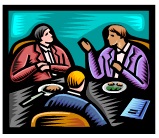 One of the most exciting events of our rapidly approaching 2014 PBI Annual Conference is the Pro Bono Expo Lunch taking place on Thursday, March 6.  The PBEye previously provided a sneak peek of public interest organizations to be featured at the Expo.  As we noted in January, this will be a unique opportunity to network and develop productive relationships with many public interest organizations from across the U.S. and around the world.
Those interested in learning more about global pro bono might view the Expo as a "global food court" since it features the following organizations discussing international topics:
To register for the Conference and to take advantage of this wonderful networking opportunity, click here.  We hope to see you there!