October 11, 2013
Esther Speaks in Vietnam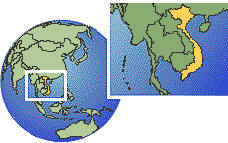 PBI is excited to travel to Ho Chi Minh City, Vietnam, this week to participate in the 2nd Southeast Asia/Asia Pro Bono Conference & Workshop 2013 the theme of which is "Pro Bono Initiatives to Strengthen Access to Justice." The conference, to be held October 11-12, will feature an international keynote address by PBI President and CEO Esther F. Lardent entitled "The Development of the International Pro Bono Movement: History and Trends."  Lardent will also co-present with a representative of DLA Piper*† and others on the topic of developing a pro bono ethic in and with advocates for justice.  PBI's presentations in interactive workshops will focus on pro bono advocacy with respect to government and legal professional organizations, as well as pro bono opportunities for in-house counsel.
The conference was organized by Bridges Across Borders South East Asia Community Legal Education Initiative, the Vietnam Bar Federation, and the University of Economics and Law, Ho Chi Minh City.  Featuring participants from the legal sector in Southeast Asia and around the world, the conference is a chance for PBI to engage with lawyers and other pro bono professionals, representatives from the judiciary, policy makers, academics, law students, and civil society and nonprofit representatives to consider the ways in which pro bono initiatives can strengthen access to justice in Southeast Asia and around the globe.
Lardent's visit to Southeast Asia follows her December 2012 visit to South Korea where she participated in the country's first ever pro bono symposium.  Both visits represent opportunities to promote the development of a pro bono culture at its earliest stages.
PBI is often called upon to share our expertise in law firm, in-house, and global pro bono.  For example, our website features a survey, last updated in 2012 by Latham & Watkins*†, of pro bono practices and opportunities in more than 70 countries.  In addition, we frequently serve as resources and trainers for pro bono programs around the world.  In that capacity, we consult with organizers and participate in a variety of events worldwide that have proven useful in helping to develop a culture of pro bono in emerging markets.
We are excited to participate in this conference and look forward to learning more about the current state of pro bono in Southeast Asia.  Don't forget to check out our live tweets from Ho Chi Minh City!
* denotes a Signatory to the Law Firm Pro Bono Challenge®
† denotes a Member of the Law Firm Pro Bono Project