June 6, 2013
Marketplace of Pro Bono Ideas: Part 2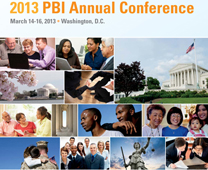 The PBEye reported last week on some of the innovative projects featured during the two "Marketplace of Ideas" sessions from the 2013 PBI Annual Conference. Here are a few more of the projects highlighted during the exciting sessions:
Criminal Appeals Project
Louis O'Neil described how in 2011 White & Case LLP*† made a strategic decision to expand its pro bono criminal work globally, including a significant increase in its U.S. criminal appeals practice. At the start of the project, the firm received cases primarily from the Legal Aid Society. However, as demand among White & Case attorneys increased, the firm contacted a number of local and international legal service providers and advocacy groups to develop collaborations.  They also assisted a local prosecutor's office in handling appeals and have many connections with the defense bar, which provided appropriate cases.
Besides the obvious importance of these cases to indigent appellants, White & Case's criminal appeals practice affords associates excellent training on client interactions, research, writing, and oral advocacy.     Recent successes include reversal of a shoplifting conviction at an intermediate appeals court and assistance with a reversal at New York's highest court of an assault conviction predicated on an HIV-positive man's saliva being characterized as a deadly weapon.  White & Case's pro bono criminal practice has taken on criminal matters around the U.S., France, South Africa, the U.K., and other countries.
Immigrant Assistance Project
Bob Redmond at McGuireWoods LLP*† described how he created and expanded a successful clinic. In 2005, Redmond decided to focus his pro bono work on immigration issues.  After reaching out to various organizations, he established an immigration clinic in partnership with the Virginia Hispanic Chamber of Commerce.  Attorneys and paralegals at Williams Mullen, where Redmond was then a partner, staffed a monthly clinic and began handling unpaid wage claims. Many people in the local Richmond Hispanic community worked construction jobs and employers often withheld the last two weeks of their wages, claiming that the workers should not get paid because they were not in the U.S. legally. Pro bono attorneys collected over $350,000 in wages for eligible clients in the first four years of the project.
As the clinic's reputation spread, more law firms and even law schools began volunteering.  In 2012, the immigration clinic received a generous grant from the Virginia Law Commission, allowing them to hire a full-time clinic coordinator. The clinic has grown and is now held twice a month and serves about 360 clients per year.
***
Check out our full recap of the 2013 Marketplace of Idea sessions in the May 2013 edition of The Pro Bono Wire! We look forward to learning more and sharing other replicable ideas and projects at the 2014 PBI Annual Conference in Washington, D.C., on March 5-7.
* denotes a Signatory to the Law Firm Pro Bono Challenge®
† denotes a Member of the Law Firm Pro Bono Project
** denotes a Signatory to the Corporate Pro Bono ChallengeSM