May 2, 2013
What's on the Pro Bono Menu?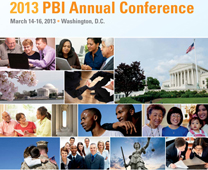 One of the most popular features of the PBI Annual Conference is peer-to-peer learning.  Pro bono leaders from law firms, legal departments, and public interest organizations and legal services providers share tips, innovations, frustrations, and best practices.  Along with networking and participatory learning, we emphasize "takeaways" – specific, concrete, practical, and universally replicable techniques, ideas, and guidance that attendees can take home with them to implement. We're already knee-deep in planning for the 2014 Conference, which will take place in Washington, D.C., on March 5-7.  But, before we get too far along, let's take a moment to reflect on a few of the gems that were shared with attendees at the Conference a few weeks ago:
Adding a representative from the marketing department to your pro bono committee can yield demonstrable results in the form of increased media attention, heightened internal and external visibility for the pro bono program, and more sophisticated communications platforms.
How great is it for the chair of a law firm's pro bono committee to also serve on the firm's management committee?  The dual role enhances the prestige of pro bono at the firm while offering access to critical information and key players.
Be creative and generous when providing in-kind donations and support to nonprofit legal services providers.  In addition to offering invitations to in-house CLE programs, consider providing training and other professional development opportunities to attorneys and staff at organizations that are unlikely to have the resources to provide those opportunities for their own employees.   (On a related note, the American College of Trial Lawyers has produced a mock trial teaching video that it is making available at no cost as a training vehicle for public interest lawyers.  Feel free to contact us, for more information.).
Emily Goldberg, pro bono director at McCarter & English, LLP*†, shared her Menu of Pro Bono Fare, which she customizes for each firm office.  On the menu are:
– Appetizers ("A small helping of pro bono; approximately 25 hours or less.");
– Soups & Salads ("A medium helping of pro bono; approximately 25 to 75 hours.");
– Entrees ("A larger helping.  Cases can exceed 100 hours, though the time commitment depends on the nature of a particular matter.  Cases are typically handled in teams."); and
– Desserts ("Doing pro bono offers many sweet 'rewards.'").
We applaud all of our attendees' creativity, ingenuity, generosity, and good works.  What was your favorite takeaway from this year's Conference?  Leave a comment and let us know!
*denotes a Signatory to the Law Firm Pro Bono Challenge®
†denotes a Member of the Law Firm Pro Bono Project