April 18, 2013
More than Just Flowers: A Virtuous Circle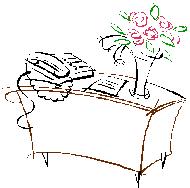 As we prepare to celebrate Administrative Professionals Day next week (also known as Secretaries Day or Support Staff Week), and the yearly ritual of monitoring who sends and receives the office's most beautiful floral arrangement, let's take a moment to pause and appreciate the valuable contributions of all of our colleagues and co-workers.  As our friend Nic Patrick wrote recently on DLA Piper's*† Pro Bono Blog:
In a professional services firm our people are everything. We must attract and retain the very best employees.  In order to achieve this we must ensure we give our staff learning and development opportunities, we must ensure their work is interesting and challenging and provides an opportunity for people to extend themselves.  Pro bono plays an important role, since many pro bono matters provide staff with these kinds of opportunities.  The availability of pro bono opportunities is a key benefit that any firm can provide to its people.  We know that our people enjoy the pro bono work that they do, and we know that happy employees are more productive.  It's a virtuous circle.
Law firms and legal departments are made up of a lot of people – most of whom are not lawyers.  Involving paralegals; administrative assistants; librarians; compliance, risk, and project management specialists; marketing and communications staff; policy, science, human resources, and information technology experts; and other non-lawyer staff in your pro bono efforts is one way to effectively increase your pro bono practice and serve more clients.  In order for non-lawyers to successfully contribute to your pro bono efforts: (1) the culture of your firm or organization must support non-lawyer participation; (2) non-lawyers must be informed and made aware of relevant pro bono opportunities; (3) you should cater to non-lawyer abilities and interests; and (4) non-lawyers must be adequately trained and supervised, so that they can have a meaningful experience.  As our friend Lisa Borden observed on Baker, Donelson, Bearman, Caldwell & Berkowitz, PC's† One Good Turn blog, "[g]etting people engaged in pro bono helps create a sense of community in a law firm – it only makes sense to find ways to engage staff as well as lawyers in that effort."
Don't just take our word for it.  Check out this inspiring video clip in which our friend Cheryl Naja describes a pro bono project for eligible cancer patients that was the brainchild of non-lawyers at Alston & Bird LLP*†, who are also heavily involved, along with firm lawyers, in its ongoing implementation:
How are you engaging your non-lawyer staff and leveraging their skills in support of pro bono projects?  Are you incorporating a pro bono element into the celebration of your administrative professionals next week?  Leave a comment and share your creative ideas below.  To learn more about involving non-lawyers in pro bono, check out the Law Firm Pro Bono Project's publication "Broadening the Bench: Involving Non-Lawyer Staff in Law Firm Pro Bono," which is available in our Resource Clearinghouse.
*denotes a Signatory to the Law Firm Pro Bono Challenge®
†denotes a Member of the Law Firm Pro Bono Project