April 2, 2013
New Clinic in a Box Program Licenses!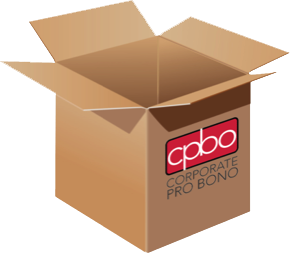 The PBEye is pleased to announce that CPBO is now offering select licenses to its Clinic in a BoxSM Program to legal departments and ACC Chapters. This program offers in-house counsel and their legal department colleagues the chance to guide a local nonprofit organization or small business through an assessment of its legal health.  An off-the-shelf model used by legal departments and ACC Chapters around the country, with the support of law firms and public interest organizations, the Clinic in a BoxSM Program offers in-house volunteers the opportunity to provide meaningful services to organizations in need.
CPBO's Clinic in a BoxSM Program has become an increasingly popular way to engage in-house counsel in pro bono and assist local nonprofit organizations or small businesses.  To date, CPBO has co-hosted 43 clinics, more than 1,300 in-house attorneys have participated, and more than 450 clients have been helped.  In total, these organizations assist more than 800,000 beneficiaries.  However, more clinics could be hosted, having an even greater impact on their communities.
To enable and empower more in-house counsel to participate in pro bono by hosting Clinic in a BoxSM Programs, CPBO has worked with a team of professionals to develop a licensing structure.  For more information about purchasing a license, including fees as well as terms and conditions, please contact CPBO Director Eve Runyon.