March 7, 2013
The Next Generation of Pro Bono Lawyers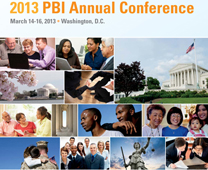 There is no shortage of commentary about the challenges facing law schools, law students, and recent graduates.  The PBEye has been following the coverage closely.  The job market for law school graduates has contracted—with many recent graduates either unemployed or underemployed.  Yet, at the same time, the need for legal representation has never been greater.
Recent developments, such as New York's new pro bono requirement for admission to the bar, are causing this dynamic to be re-evaluated.  Are there opportunities for law schools and the legal profession to reinvigorate the job market while making representation easier to obtain?  Are there ways to leverage the millennial generation's interest in and enthusiasm for pro bono and public services to create more training and networking opportunities that will benefit the students, recent graduates, and clients in need of assistance?  What structures and resources are needed to make these opportunities successful?
To explore these cutting-edge questions, we are offering an exciting program as part of the 2013 PBI Annual Conference: "The Next Generation: Cultivating Law Students and Recent Graduates as Key Pro Bono Resources" (Friday, March 15, 4:00 p.m. to 5:00 p.m.).  This timely session will examine how pro bono can be utilized to "learn and serve" — to enhance experiential learning opportunities while significantly increasing access to justice.  The discussion will examine what these new opportunities may mean for law firms, legal departments, and public interest organizations as well as the challenges associated with creating and maintaining successful pro bono initiatives that involve law students and recent graduates.
The distinguished and expert facilitators for this program are Chief Judge Jonathan Lippman of the New York Court of Appeals; Sheldon Krantz, Distinguished Visiting Professor of Law, the University of Maryland Francis King Carey School of Law; and Steven Schulman, Pro Bono Partner, Akin Gump Strauss Hauer & Feld LLP*†.  This session is sure to be a Conference highlight!
Online registration for the Conference is now closed. You may still register before the Conference by e-mailing pbievents@courtesyassoc.com or calling (202) 973-8720. We have reached our maximum capacity for public interest attendees. While law firm and corporate representatives may still register, space is extremely limited.  We hope to see you next week!
* denotes a Signatory to the Law Firm Pro Bono Challenge®
† denotes a Member of the Law Firm Pro Bono Project