February 11, 2013
In-House Pro Bono at the PBI AC: Growth in Mature Programs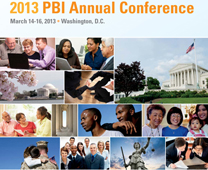 For departments with formal pro bono programs, learning how to maintain or grow is vital to the success of the program. One of the best ways to learn is from those with experience. At the 2013 PBI Annual Conference, CPBO will host a program for legal departments with up and running pro bono programs to learn from each other – "In-House Pro Bono: Momentum and Growth in Mature Programs."
This isn't the first time CPBO has hosted such a session and each year many attendees want to know: What is "mature" and who should attend? While there are a handful of fantastic, formal, sustained in-house pro bono programs that have been in place for more than 10 years, most have started or re-started in recent years. If your legal department's pro bono program has been formalized and your colleagues regularly provide pro bono legal services, this session is for you regardless of how long your program has been operating.
This session considers what in-house pro bono could and should look like as the sophistication of in-house pro bono increases. This year, the session will focus on signature projects, partnerships and collaborations, effective communications, and self-assessment for strategic planning. Each of these topics will be discussed, from the hows and whys of developing a signature to project, to the keys to developing strong and successful partnerships, to when it is time to reflect, assess, and adjust.
Of course, this is just one of many sessions for representatives from legal department pro bono programs to attend. As noted in previous blogs, In-House Pro Bono Leaders – You're Invited! and Annual Conference: In-House Preview, the PBI Annual Conference is unique in that it features a track dedicated to in-house pro bono on Thursday, in addition to the many open sessions on Friday and Saturday.
Whether mature or just starting out, we hope to see you at PBI Annual Conference. For a current list of sessions, click here. To register for the Annual Conference, click here. If you have questions, including which sessions to attend, please send us an email.