February 7, 2013
Munch and Meet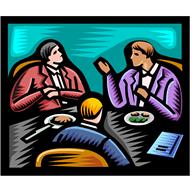 The 2013 PBI Annual Conference is rapidly approaching and The PBEye is excited to provide a sneak peak of the public interest organizations that will be featured at the Pro Bono Expo Lunch on Friday, March 15.  There will be a variety of prominent organizations hosting tables at lunch, and their representatives are looking forward to sharing emerging issues, strategies, and developments in their topical areas, and providing information on the types of pro bono opportunities available to your firm or legal department.  This is a unique opportunity to network and develop productive relationships with many public interest organizations from across the U.S. and around the world.
Among the organizations hosting tables this year are:
Because global pro bono is expanding at such a rapid rate, we have included designated tables for attendees to discuss the state of pro bono and pro bono opportunities available in specific countries/regions.  You can learn about pro bono opportunities in places such as Chile, Mexico, South Africa, and the U.K.
To register for the Conference and to take advantage of this wonderful networking opportunity, click here.  We hope to see you there!