February 5, 2013
Driving Change: Pro Bono and the Courts
If you've been following pro bono closely over the past few years, you may have noticed the emergence of a new major player:  the judiciary.  Judges and courts across the nation (and, to a certain extent, the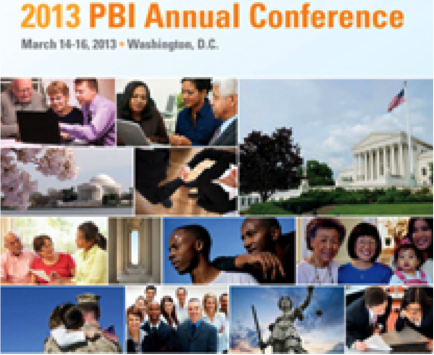 world) are taking more visible roles in ensuring that the poor and disadvantaged have access to the legal services they desperately need.  From state Supreme Court-led pro bono summits to revisions of practice rules that address unnecessary obstacles to pro bono service to new delivery models to leverage pro bono service, the courts are increasingly attuned to, and visibly engaged in promoting and improving pro bono.
To get more insight on how pro bono can garner support from the bench and how judges can enhance and enrich the provision of pro bono, we're making this the focus of our Saturday closing plenary session at the 2013 PBI Annual Conference.  A distinguished panel of judges will explore how law firms, legal departments, and public interest organizations can work with the courts in innovative and strategic ways to advance access to justice.  Scheduled to join us for this program are:
Hon. William Bright—Judge, Connecticut Superior Court
Hon. Bernice B. Donald—Judge, U.S. Court of Appeals for the Sixth Circuit
Hon.  Jonathan Lippman—Chief Judge, New York Court of Appeals
Hon. Eric Washington—Chief Judge, District of Columbia Court of Appeals
Conference attendees will then participate in discussion groups with these judges to address what their institutions can do to:
Increase support and funding for legal service and pro bono efforts;
Become an integral part of the courts' efforts to provide a better experience for self-represented litigants;
Develop collaborative approaches that reduce the need for litigation; and
Identify and implement changes in policies, statutes, regulations, and practice rules to increase the pro bono pool.
You won't want to miss this cutting-edge session!  To register for the 2013 Annual Conference, click here.  If you have questions or need assistance, please feel free to send us an e-mail.  We hope to see you at the Conference!