January 9, 2013
In-House Pro Bono Leaders – You're Invited!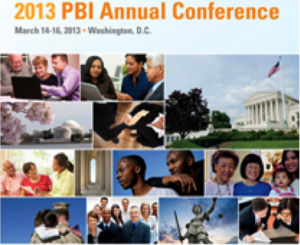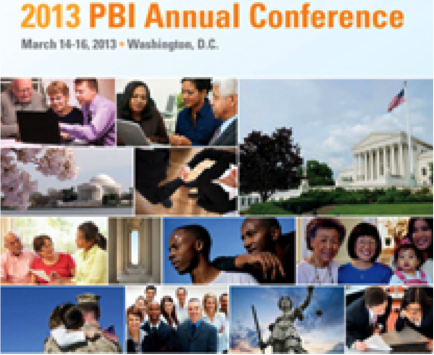 The PBEye invites in-house counsel and staff to join CPBO March 14-16 at the 2013 PBI Annual Conference in Washington, D.C. Each year PBI brings together pro bono leaders from legal departments, law firms, and public interest organizations from around the world to meet with and learn from each other to improve access to justice through pro bono.
The PBI Annual Conference is unique in that it features a track dedicated to in-house pro bono. The in-house programming kicks off with an opening plenary (Thursday, March 14, 3:00 – 4:00 pm), which will feature a rare opportunity to hear from in-house members of the following PBI and CPBO task forces on their efforts regarding important issues that impact the growth of pro bono:
Multijurisdictional Practice Task Force
Task Force on Pro Bono Measurement and Metrics
Corporate Task Force on Global Pro Bono
Following the plenary, in-house attendees will have the option of attending sessions based on the maturity of their legal departments' pro bono programs. This year, CPBO will offer the perennial favorite "In-House Pro Bono: The Basics" (March 14, 4:15 – 6:00 pm) for those legal departments that have recently created or restructured a formal pro bono program, or are in the process of doing so. This session offers a brief, but comprehensive workshop on the basics of designing, guiding, implementing, or administering a successful in-house legal department pro bono program.
Stay tuned for an overview of other in-house sessions and other Conference events. For an up-to-date list of sessions, click here. To register for the Annual Conference, click here.  If you have questions, please send us an email.