January 7, 2013
Remembering a Champion of Pro Bono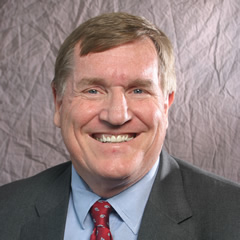 The PBEye is deeply saddened to learn of the passing of Bill McBride, a dear friend to the Pro Bono Institute and a passionate leader who championed pro bono for society's most vulnerable members.  His death is a profound loss for his beloved family,  the legal profession, and the pro bono cause.  His legendary wisdom, humor, exuberance, and larger-than-life personality will be greatly missed by all who knew him.
McBride's lifelong dedication to service began when he voluntarily enlisted in the Marines, serving in combat in Vietnam.  As managing partner of Holland & Knight LLP*, he built upon the culture of pro bono initiated by his friend and mentor, Chesterfield Smith, and continually reminded fellow attorneys that they too had a responsibility to "do good."
Buddy Schulz, a close friend of McBride's and a partner at Holland & Knight, said "[McBride] showed me perpetually that we, as lawyers, could not simply work for ourselves and our clients; that we, as lawyers, must discharge our professional  obligations always to help others."
McBride played a pivotal role in the Pro Bono Institute, serving as Co-Chair of the Law Firm Pro Bono Project from 1997-2001 and lending his expertise and judgment to the project at a critical moment in its history.  He was also one of the leaders of Lawyers for One America initiative of the Clinton Administration, led by now-Attorney General Eric Holder, that brought together the leaders of the legal profession in the U.S. to forge a plan to enhance diversity in the profession and to increase pro bono service to people and communities of color.
At a White House ceremony launching the Lawyers for One America initiative, he spoke of the importance of pro bono and diversity, noting that "[R]evenues per lawyer, profits per partner or profitability indexes don't measure the right things. Those statistics measure everything about the practice of law except what makes us proud to be lawyers.  [As for diversity], the current minority hiring pool is simply too small—law schools must give us more minority law graduates. Give us the lawyers; we will give them the opportunities to succeed."
"We owe a debt of gratitude to this man of extraordinary intellect and spirit who spent so much of his life helping others," PBI President and CEO Esther F. Lardent said.  "He will be greatly missed, and he will always be remembered for his example of service and his commitment to pro bono.  Our deepest sympathies go out to his family, friends and colleagues."
Read McBride's obituary at The New York Times.
*denotes a Signatory to the Law Firm Pro Bono Challenge®