December 20, 2012
Give the Gift of Pro Bono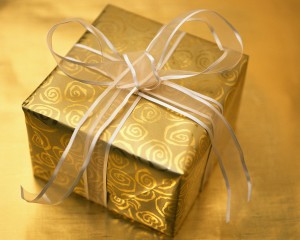 Choosing the perfect gift during the holiday season is always a challenge.  Fortunately, The PBEye is here to help.
In the past, we recommended Mommy and Daddy Do It Pro Bono, a cute book that aims to inspire the next generation to give back to their communities and explores the importance of social responsibility, and The Power of Pro Bono, a gorgeous book that explores 40 pro bono design projects.  That got us thinking  . . .  sometimes the best gift you can give someone is your time!
Pro bono work is a gift that can change lives, including yours.  As many of our friends and supporters have stated, doing pro bono is rewarding in a variety of ways, and often allows you to stay connected to what may have inspired you to become a lawyer in the first place.  As Robert Dell, chair and managing partner of Latham & Watkins LLP*† said in his remarks at this year's Annual Dinner, "the rewards of engagement almost always far exceed the efforts that go into pro bono work.  We all get much more than we give, which is reflected in the increased morale, professional development, and sense of pride our lawyers feel when engaging in pro bono."
In addition to your time, generously support the public interest organizations with which you, your law firm, and your legal department work.  Our ability to do meaningful pro bono work and make a difference in our communities would be impossible without these wonderful partners.
After all, this is the season to "give back."  Happy holidays everyone!
If you know of any interesting pro bono-related gifts, tell us about them by leaving a comment below!
* denotes a Signatory to the Law Firm Pro Bono Challenge®
† denotes a Member of the Law Firm Pro Bono Project