November 15, 2012
PBI's 2012 Annual Dinner and Leadership Convocation Underway!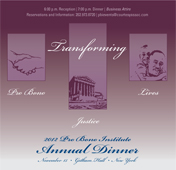 PBI is looking forward to hosting its Annual Dinner at Gotham Hall in New York City tonight, and we're excited about seeing you there! The theme of the night is "Transforming: Pro Bono • Justice • Lives," and attendees are sure to be inspired by our distinguished guests.  We thank our co-chairs David S. Williams, Chief Executive Officer of Deloitte Financial Advisory Services LLP, John F. Schultz, Executive Vice President and General Counsel for Hewlett-Packard Company (HP)**, and Jonathan J. Oviatt, Chief Legal Officer and Corporate Secretary of the Mayo Clinic**. Click here for more information about the co-chairs.
Attendees will also have the pleasure of hearing remarks from special guest Aimee Sherrod, an Air Force veteran who was denied military benefits after she was diagnosed with PTSD.  With pro bono assistance from with the National Veterans Legal Services Program, Morgan Lewis & Bockius LLP*† and HP, Sherrod secured the benefits to which she and her family were entitled.  Read more about Sherrod's story here.
Finally, we're proud to present Latham & Watkins LLP*† with the John. H Pickering Award, and Ford Motor Company** in partnership with Dykema Gossett PLLC*†, Legal Aid and Defender Association, Inc., and Michigan Community Resources with the CPBO Pro Bono Partner Award for their commendable commitment to pro bono.
Please note that the 2012 National Leadership Convocation will be held prior to the dinner from 2:30p.m. – 5:00p.m. Attendees will focus on a range of topics, including global pro bono, the impact and effectiveness of law firm and corporate pro bono, and the best innovative projects identified during the Regional Leadership Convocations. This will surely be an unforgettable event!
If you have any questions about the Dinner or Convocation, please contact Courtesy Associates at pbievents@courtesyassoc.com.
We look forward to seeing you in New York!
* denotes a Signatory to the Law Firm Pro Bono Challenge®
† denotes a Member of the Law Firm Pro Bono Project
** denotes a Signatory to the Corporate Pro Bono ChallengeSM