November 1, 2012
Looking Forward to March?
Although the 2013 PBI Annual Conference is many months away, we are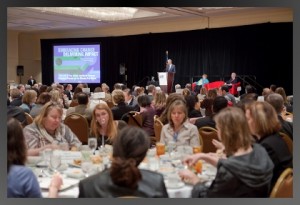 already busy planning.  In addition to other scheduled sessions and programs, we will be holding the Pro Bono Expo Lunch on Friday, March 15.  In the past, there have been a variety of prominent organizations hosting tables at lunch, and their representatives have shared emerging issues, strategies, and developments in their topical areas.  They have also provided information on the types of pro bono opportunities available to your firm or legal department.  This is a unique opportunity to network and develop productive relationships with many public interest organizations from across the U.S. and around the world.  Many successful pro bono "matches" have been made at the Expo in years past.
If there are any particular organizations or topics you wish to see at the Expo, please email Law Firm Project Assistant Christine Sutherland with your suggestions.  Mark your calendars — we hope to see you there!