September 21, 2012
CPBO at the ACC Annual Meeting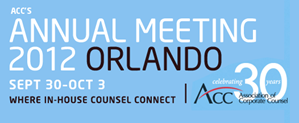 The PBEye is excited to announce that the CPBO team will be traveling to Orlando, Fla., for the ACC Annual Meeting 2012, Sept. 30 – Oct. 3. At the meeting, in-house pro bono will be featured at the following events:
Session: Pro Bono Partnerships Mean Greater Value from Your Outside Counsel
Monday, October 1 from 11:00 am to 12:30 pm
This session will explain how to crack the untapped value of outside counsel by partnering on pro bono initiatives. The discussion will detail how pro bono programs can leverage their impact through partnerships with law firms.
Pro Bono Breakfast
Tuesday, October 2 from 7:45 to 9:00 am
Come meet with other in-house counsel interested in pro bono and learn about pro bono trends and best practices from CPBO.  Please RSVP by September 25, to CPBO project assistant Eric Florenz, if you plan to attend the breakfast.
Session: 1 + 1 = 3: Aligning Corporate Social Responsibility and Pro Bono
Tuesday, October 2 from 2:30 to 4:00 pm
This interactive session will explore the intersection of corporate social responsibility and pro bono. The session will highlight ways in which a legal department's pro bono efforts may complement its company's larger philanthropic efforts and delve into the gains realized through coordinated volunteer work utilizing the expertise of lawyers and others.
Meet with CPBO
CPBO would enjoy meeting with attendees when they have free time between programs. If you are interested in sitting down with CPBO for a few minutes to discuss options and initiatives for yourself, your law department, or your chapter, please contact Eric Florenz to set up a time that is convenient for you.  Or, stop by the CPBO booth in the exhibit hall to see new resources and chat with the CPBO team.
To find out more about the schedule of events or to learn about in-house pro bono opportunities, contact CPBO Director Eve Runyon.  We look forward to seeing you in Orlando!