August 8, 2012
Global Pro Bono Goes for the Gold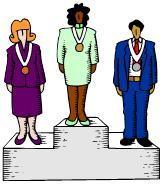 As the world is captivated by the majesty of the Summer Olympic Games, we at The PBEye can't help but think about the connection between the games and PBI's Global Pro Bono Project.  Beyond showcasing athletic triumph and heartbreak in its most celebrated and esteemed platform, the Olympic Games serve as a reminder of the global community we, both as individuals and citizens of our respective countries, exist in every day.  The same is true for the Global Pro Bono Project, which aims to support the increase of pro bono culture, policies, and practice in the legal profession around the world.  While global pro bono is still in its beginning stages, recent expansions point toward a promising future.  Just as participation in the games has ballooned from 13 countries in the first modern Olympics held in 1896 in Athens, Greece, to now 205 countries, interest in global pro bono continues to grow.
Currently, the Global Pro Bono Project offers a number of resources for pro bono enthusiasts going for the gold in global pro bono:
The Global Pro Bono Atlas details the pro bono culture in different nations
The Global Pro Bono Spotlight features global pro bono success stories
The PBI webinar "Exploring In-House Global Pro Bono" addresses the intersection of global corporate citizenship and engagement within a legal department (to access the webinar, contact CPBO Project Assistant Eric Florenz).
To learn more about global pro bono, legal departments and ACC Chapters should contact CPBO Director Eve Runyon, and law firms should contact Law Firm Pro Bono Project Director Tammy Taylor.  In the meantime, cheers to all of the athletes and all of the pro bono participants around the world!
Hat tip to PBI intern Ben Gloger for his help on this post.