July 27, 2012
Lights, Camera, Action!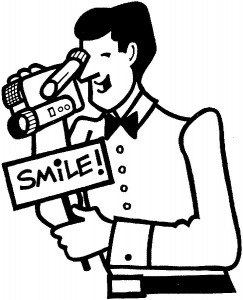 Looking for an innovative and engaging way to showcase your law firm's commitment to pro bono?  Consider creating a pro bono video!  In recent years, many firms have chosen video as a medium for advertising and promoting their dedication to pro bono.
Producing a successful video has many benefits.  Videos not only allow firms to present their commitment to pro bono in a concise and effective manner but also provide them with the opportunity to display the character of their firm to the public.  Moreover, videos have the power to inspire and motivate firm attorneys and other staff to contribute to something bigger than themselves. Pro bono videos may also be used as a recruiting tool. By emphasizing the hands-on training recent law school graduates will undergo by working on pro bono cases, firms may differentiate themselves and entice a new generation of lawyers to join their ranks.
We recently viewed the videos produced by 18 Law Firm Pro Bono Project Member Firms and Law Firm Pro Bono Challenge® Signatories that are posted on their websites. Here are a few tips for making your firm's pro bono videos both effective and compelling:
Promote videos on your firm's website. Don't let your hard work go unnoticed!
Make your videos accessible to social media outlets. A well-advertised video may increase traffic to a firm's website and promote a firm's online presence, especially if the viewer is able to link the video to Facebook, Twitter, and/or YouTube.
Work with your IT department. Recruit staff IT personnel to help create the video and investigate whether anyone has any experience with creating films. Who knows? Maybe you'll discover hidden talent and a staff member who happens to dabble in amateur moviemaking!
Pay attention to production value. Pro bono videos don't have to be on par with summer blockbusters or even super formal, but they should have decent picture and sound quality. Find the right tone and balance that fits the personality of your firm.
Know your audience. To whom do you want your pro bono video to speak and why? Interested in reaching out to civil rights organizations or other potential pro bono clients and partners? Cater your video to your chosen objective. Firm attorneys and staff, recent law school graduates, and corporate clients are also audiences that you may choose to reach with your video.
Consider interviewing pro bono clients. When appropriate, featuring pro bono clients who have successfully overcome great obstacles can be a meaningful way to indicate to the audience that your firm is committed to pro bono. This requires great care and sensitivity, including respecting confidentiality and security issues and avoiding any sense of exploitation.
Keep it brief.  You only have so much time to grasp a viewer's attention!
Who caught our eye? The videos below exemplify the wide range of themes and styles of firm pro bono videos:
Has your firm produced a pro bono video recently?  Leave a comment and share your experience, and be sure to include a link to the video!
* denotes a Signatory to the Law Firm Pro Bono Challenge®
† denotes a Member of the Law Firm Pro Bono Project
Hat tip to PBI intern Kristyn Acho for her help with this post.