June 25, 2012
VIDEO: WDPB – John Frantz, Verizon Communications Inc.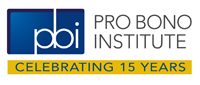 Good pro bono programs take a lot of collaboration internally and often externally.  It's a collective undertaking that requires lawyers and non-lawyer staff to work together to find, place, work through pro bono opportunities to get justice for those who need it.
This week hear from John Frantz, deputy general counsel at Verizon Communications Inc.**, on the importance of doing pro bono.
** denotes a Signatory to the Corporate Pro Bono ChallengeSM