April 10, 2012
CPBO Has a New Look!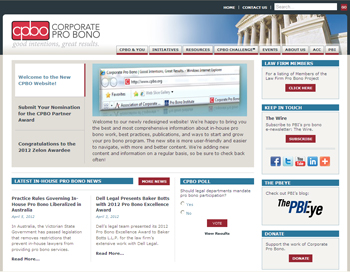 The PBEye is excited to see CPBO's new look, including a new logo and brand new website.  The site has been redesigned to make it easier to find the most comprehensive and up-to-date information about developing and growing in-house pro bono initiatives.
The new CPBO website is designed to meet your needs, whether you work at a legal department that is new to pro bono or has a mature program, or are interested in pro bono for your ACC Chapter.  Like before, the CPBO website provides best practices profiles, publications, sample documents and recent news regarding in-house pro bono, but in a new, more accessible format.  In addition, the site now has an interactive poll and more detailed information about CPBO's initiatives and offerings, such as onsite pro bono clinics and the CPBO ChallengeSM.
Visit CPBO's new website at www.cpbo.org or contact Eve Runyon, director of CPBO, for more information.