March 5, 2012
VIDEO: WDPB – Mike Sposato, Caterpillar Inc.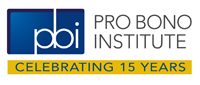 Corporate pro bono is really on a roll these days and The PBEye is glad to see so many businesses taking an active interest in giving back to their communities.  We're also quite impressed with the corporations that are taking advantage of all pro bono has to offer their employees.
This week hear from Mike Sposato, Deputy General Counsel of Caterpillar Inc.**, on why lawyers should do pro bono.
**denotes a Signatory to the Corporate Pro Bono ChallengeSM